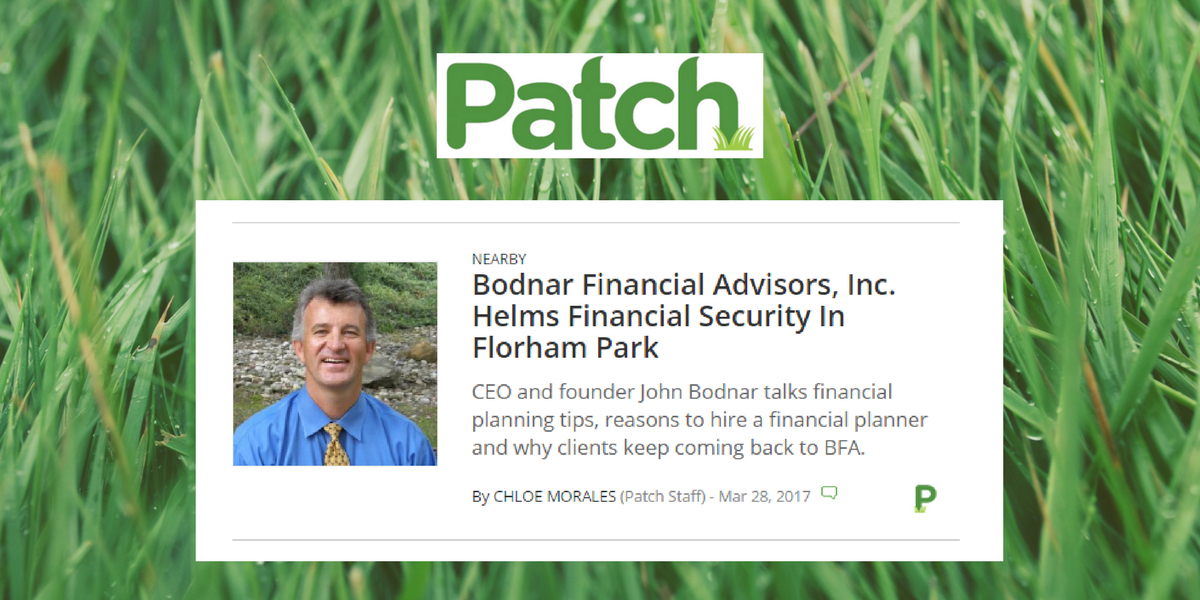 The East-Hanover/Florham Park, NJ Patch recently profiled John Bodnar, CFP®, CIMA® to discuss financial planning tips, reasons to hire a financial planner, and why clients keep coming back to Bodnar Financial.
Bodnar Financial Advisors, Inc. Helms Financial Security In Florham Park

Bodnar Financial Advisors, Inc. began as an idea, emerging from the ashes of Black Monday. Today, the full-service financial planning company, based in Florham Park, specializes in the management of major life events, from retirement to sudden wealth, unemployment to starting a family.

Patch: Tell us the story of Bodnar Financial Advisors, Inc. Where did it all begin?

Bodnar Financial Advisors, Inc.: I've been in the financial planning business since I graduated college in 1981, and there wasn't much of an industry back then. When someone asked me what I did for a living, I'd say, "I'm a financial planner." And almost everybody would say, "What the heck is that?"

When the stock market crashed in 1987, my wife, Karen, and I had one baby at home and another on the way. Right after the crash, I had this brilliant idea: Now would be a good time to start my own business! So, I did.

I remember backing up the family station wagon outside Ford Financial (where I worked at the time), and they were getting rid of old furniture. I took some chairs and a desk and set up an office in our tiny condo. That was the beginning of Bodnar Financial.
Read the whole interview HERE.
The opinions expressed in this material do not necessarily reflect the views of LPL Financial and are for general information only and are not intended to provide specific advice or recommendations for any individual. All performance referenced is historical and is no guarantee of future results. All indices are unmanaged and may not be invested into directly.