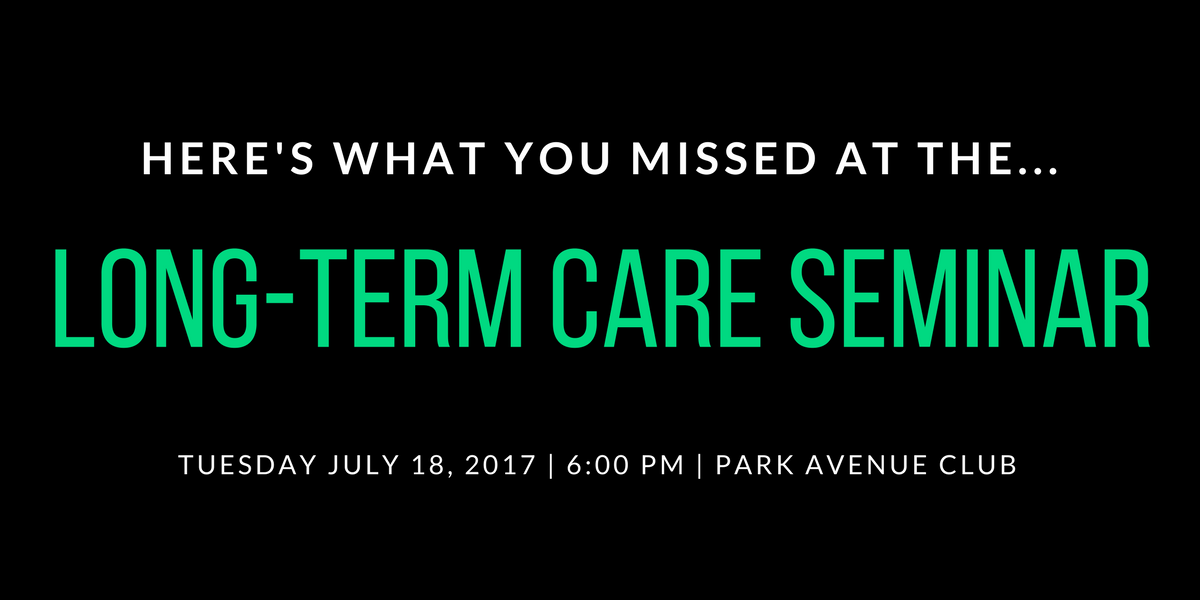 Bodnar Financial clients packed the room on the evening of Tuesday, July 18, for our long-term care (LTC) seminar at the Park Avenue Club!
Greg Bushwell of the LTC Specialist Group and John Bodnar, CFP® took turns discussing the need for long-term care insurance, and the role it can play in protecting a family nest egg.
"Everyone in this room has a long-term care plan," Bushwell told attendees. "Some of you have long-term care insurance, and the rest of you have the U.S. by default plan."
"You're saying: 'I am going to rely on the government to take care of me, or my son or daughter, or my retirement fund.' That can get expensive, fast. The main objective of today is to help you create a plan by design, rather than by default."
Some of the highlights from the event:
Daily caretaking affects more than your finances. It affects family dynamics and relationships between generations.
Living a long life is a near certainty, which means planning for it is now a necessity.
Most people think LTC insurance is only for old people in a nursing home. It can be, but LTC has evolved over the last 25 years. Most of long-term care is happening in the community, either at home or in an adult day care facility.
Seventy percent of people turning 65 years old can expect to need some type of long-term care.
The long-term care industry is shrinking. There used to be about a hundred different companies offering LTC, but now there are only a handful. Companies are starting to realize the true costs of long-term care. People are collecting on their premiums. That proves America has a real, societal need for elder care.
Long-term care insurance is a versatile product. You can pick and choose different variables to best fit your needs (and budget), including: policy lifetime, inflation riders, maximum daily payout, lag time until payments kick in, etc.
There is a popular alternative to the traditional LTC insurance model: a "linked benefit" between life insurance and long-term care. This allows people to mitigate their LTC risks while investing funds in a tax-free death benefit for your loved ones. Your premium payments feel more like an investment, rather than an expense.
Let the record show: Jeanne Bass' cellphone went off in the middle of the seminar. The ring tone was Elvis (of course). John gave her a hard time, until he realized the song title was "Don't Be Cruel."
Insurance planning should happen before you need it, so it's there tomorrow when you need it.
Want to learn more details about LTC insurance? Read our blog post: What is Long-Term Care Insurance?
The opinions expressed in this material do not necessarily reflect the views of LPL Financial and are for general information only and are not intended to provide specific advice or recommendations for any individual. All performance referenced is historical and is no guarantee of future results. All indices are unmanaged and may not be invested into directly.